Buckle / Viewer Wiring
How to wire camera's buckle/viewer switches.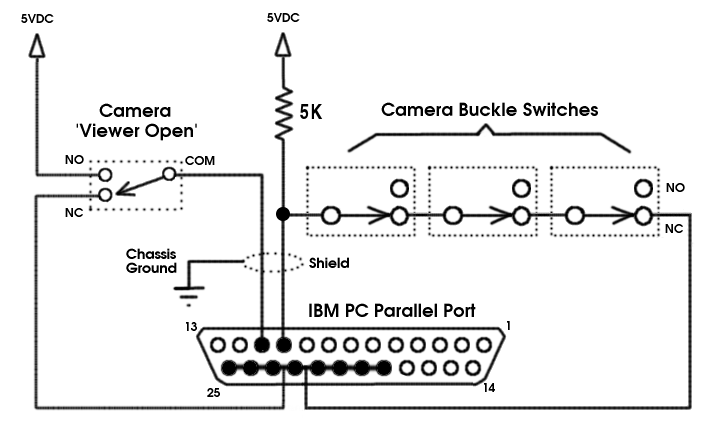 Wire up one of the input bits on the parallel port to the buckle, and another one to the viewer.

The viewer switch is typically a SPDT switch; wire the common directly to the input port, and wire the terminals to +5 and ground, so that throwing the switch alternates between supply and ground to the common.

The buckle switch is typically a group of SPST 'normally closed' switches wired in series. Any one switch will open to cause a buckle. In this case, you would ground the last switch, and drive the input with the first switch, with an appropriate pull up resistor to ensure when any switch opens, +5 is fed to the input.

Based on this example, where the viewer is wired to pin 11, and the buckles are wired to pin 10, the opcsdefs.opc file's buckle and viewer commands would be configured to monitor the port/bit mask on the parallel port, eg:

	buckle c 0378 40 40
	viewer c 0378 80 80
    
You may need to invert the mask (eg. change the '40' or '80' to 00) for correct operation.